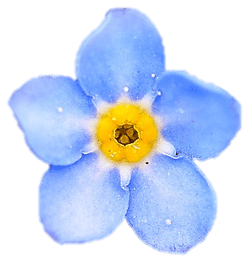 *This post may contain affiliate links for which I earn commissions.*
Forget Me Not Day is not a mainstream holiday and like me, you may have never heard of it before.
One thing for sure, this flower is beautiful! With sky blue connected petals, a white inner ring and yellow center, it's a show stopper. Unfortunately they are quite small (about a half inch), so many miss them. Their meaning is true love, faithfulness and respect. They are wonderful, but the flower is not directly what Forget Me Not Day is about.
In 1921, 100 years ago this year, this day was created as a reminder of the sacrifice Veterans (our soldiers and warriors) made with their bodies in injuries while serving. Be sure to reach out and let a Veteran know you are thankful and appreciate their sacrifice. They deserve our support and encouragement!
When doing a little more investigation on this day, I realized there were several other varying ways and reasons people celebrate this day:
Some have fundraisers to show gratitude for Veterans or sell Forget Me Nots similarly to the Memorial Day Poppies you've seen.
Some see this day in a whole different way. They celebrate their loved ones by connecting with them in person, with a phone call, email, or even Zoom.
Some remember their deceased loved ones on this day.
No matter how you celebrate, you can enjoy several activities around this special day. Here are a few I gathered together during my research:
Purchase Forget Me Not seeds (aff link) and plant them in small pots or be ready to plant them (according to the directions and your planting zone on the packet) for Spring.
Do a craft with natural Forget-me-not flowers that are pressed and dried. You can either dry and press them yourself after the flowers grow in the summer, or you can buy them at a place like Amazon (aff link). Laminated bookmarks, greeting cards or framed art are just some of the beautiful ways to create and display Forget Me Nots.
Read this Forget Me Not Poem by Ann Plato.
Fun Fact: Did you know that Alaska's state flower is Forget Me Nots? This fact has nothing to do with this particular day, but I thought I'd bring it up because I found a nice coloring page you might want to try out here.
Believe it or not, Forget Me Not flowers are edible. People have used them to make tea, added them to salad or baked goods and even candied the blossoms. **NOTE: When I was reading about these flowers I read that there are possible side effects and that if you have allergies, you should check with your doctor first before consuming them. "If in doubt, leave them out."**
However you choose to celebrate this day, be sure to reach out and let a Veteran know you are thankful and appreciate their sacrifice. They deserve our support and encouragement!
Tell me in the comments what kind of activities you have done or would like to do for this day.
Until next time!
Sheri
P.S. Have you joined my email list? When you join you get tips, resources, and notifications about my latest posts. To join, click the button below.